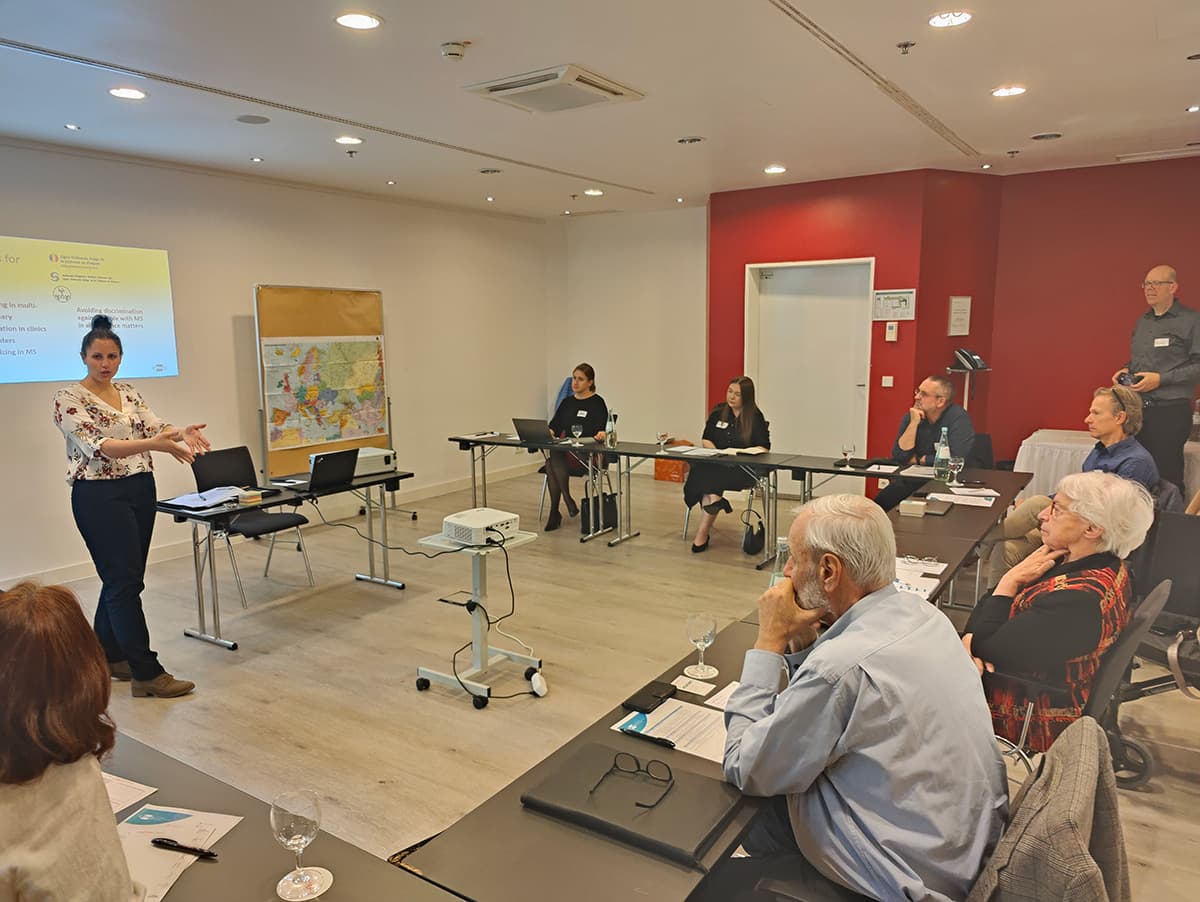 EMSP Membership Capacity Building Programme
The Membership Capacity Building (MCB) Programme is one of the major programs that EMSP has been spearheading since 2018 aiming to empower national MS Societies across Europe using a regional approach to provide tailored support to the organisations. In 2022 we organized both face-to-face and online workshops for the Western Mediterranean, Balkans and Western European regions.
Objectives of the Membership Capacity Building (MCB) Programme
The MCB Programme empowers national MS Societies across Europe to take a regional approach to providing tailored support to the organisations. The core objective of our capacity building programme is to define the common priorities of MS organisations regionally and to set up a framework for sustainable partnerships to maximize their advocacy efforts for a greater impact. The MCB programme allows MS Societies to come together towards a common goal, allowing EMSP get an in-depth understanding of the activities and challenges they are facing at the national level. The MCB aims to strategize advocacy efforts for a greater impact. Through the MCB program, EMSP connects different MS societies together through workshops, webinars and communication-focused discussions, catalysing the learning process across societies based on their strengths and needs.
What has MCB done over the years?
EMSP worked in 2018 with the Baltic states and in 2019 with the Balkans. In 2020, due to the COVID-19 outbreak, planned activities were swiftly adjusted into various online workshops, empowering MS Societies to adapt their communication, advocacy, and campaigning strategies to the pandemic as well as novel digitalization needs. In 2021, EMSP continued to pursue its regional capacity-building approach with online activities supporting specifically the Western Mediterranean, Balkan and Baltic regions.
What did we achieve in 2022?
In 2022, the MCB Programme adopted both online and face-to-face approaches where possible. The MCB Programme conducted 1) a follow-up workshop with MS Societies from the Western Mediterranean region on employment among people with MS, 2) a follow-up workshop with the MS Societies in the Balkans region on MS registries and 3) expanded to bring together MS Societies from the Western European region with a discovery workshop in Germany that allowed MS Societies to connect, explore common priorities and challenges, aiming to further materialize this discussion in 2023. Two online webinars that included all interested member organizations were also conducted on Cooperation for Fundraising and Campaigning based on expressed needs.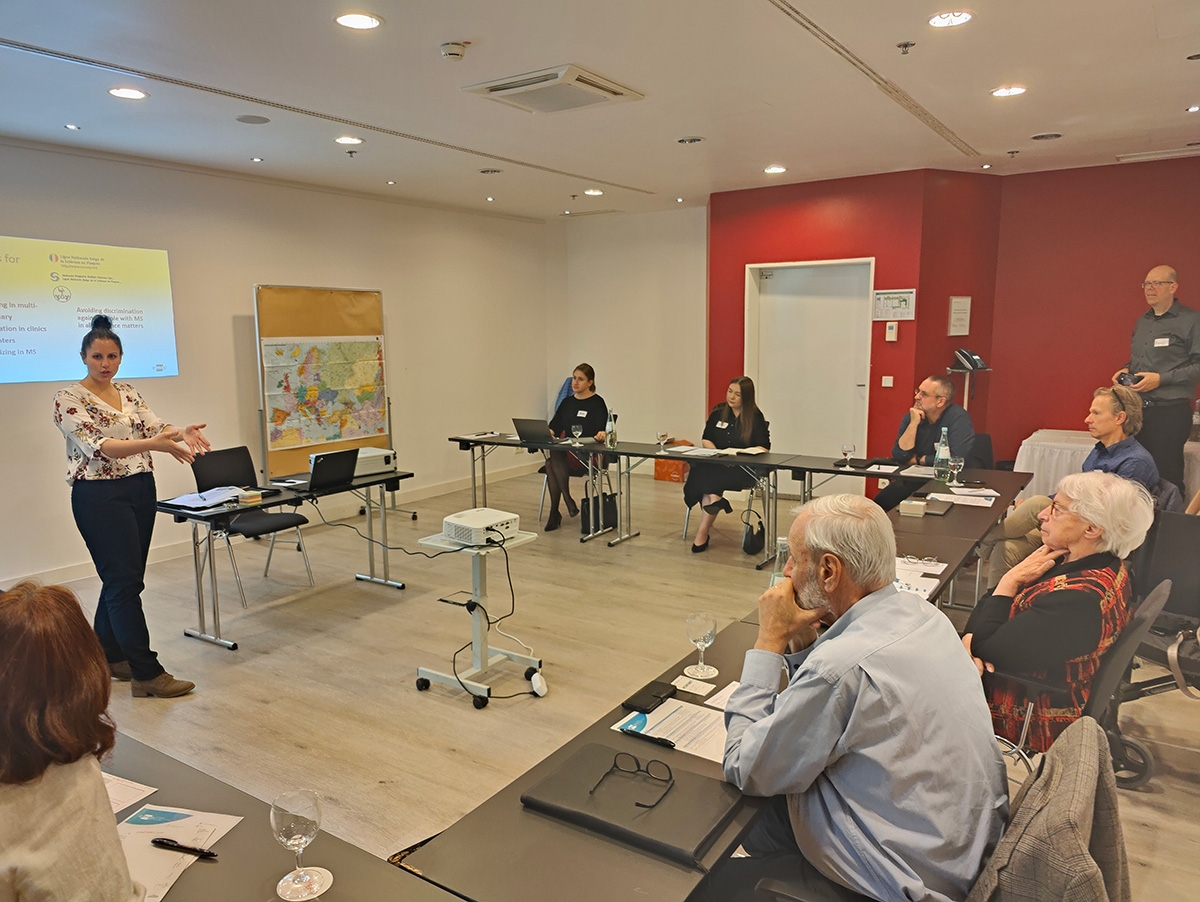 On 30 September 2022, an in-person workshop brought together MS Societies from Western Europe in Hannover, Germany, with representatives from Belgium, Germany, Ireland, Luxembourg and Netherlands. The objectives of this workshop were to foster collaboration and build out the solidarity in Western Europe, discover common needs and challenges in the region, support and nurture best practices sharing and peer support, and identify common issues to work on together. This workshop was led by Andreas Heitmann, the director of the Schleswig-Holstein Chapter at DMSG, the German MS Society. From in-depth discussions and sharing expertise, the participants voted for "lack of data / lack of MS-Register" as the first challenge to work towards changing together while "reaching out early to young and newly diagnosed people with MS" was considered as a secondary priority. To address the priority, EMSP under its MCB Programme 2023, will organize a follow-up in-person workshop on MS registries with MS Societies in Western Europe. As for the second priority on reaching out to young and newly diagnosed people with MS, EMSP developed a lesson learning sheet to document the best practices each MS Society in this regional group is adopting to engage young people. We have also expanded this document to include best practices from EMSP's Young People's Network. This document was widely shared with all members,, encouraging members from other regional groups to also work towards engaging young people with MS.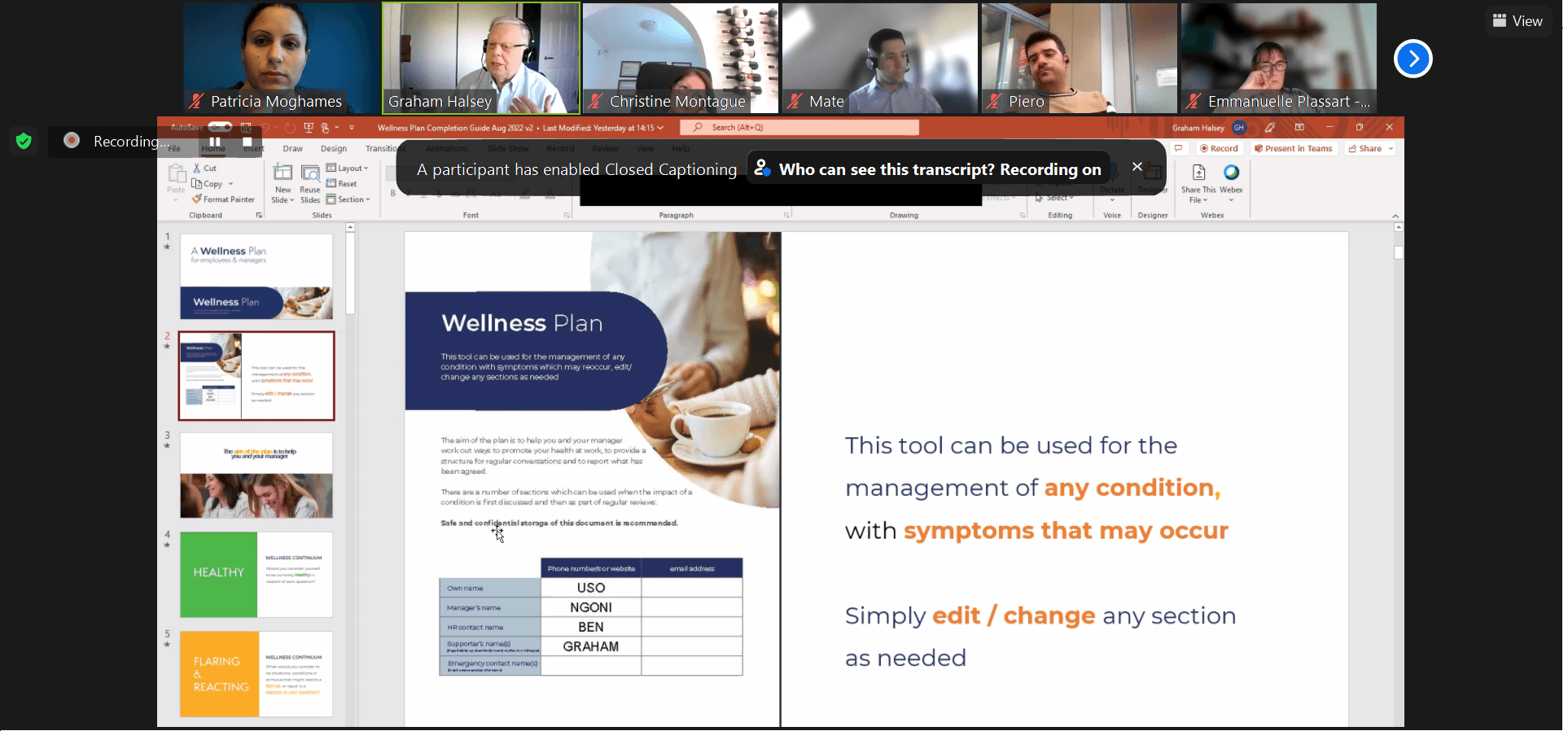 Another successful online workshop was held by Graham Halsey from Well Working Matters on the 6th of October 2022 with member organisation representatives from the Western Mediterranean region including Spain, Portugal, France, Italy and Malta. This online workshop was built on two previous workshops in the same region, first there was a discovery workshop followed by a second focused on how priority areas changed for people living with MS in terms of employment during the COVID-19 era. In this workshop, together the MS Societies and EMSP assessed the current national and European policies. They worked on a regional policy case using a specific work re-integration tool to put the spotlight on specific challenges that have come to the surface in terms of employment for people with MS during the pandemic and the new challenges facing people with MS in the new hybrid working environment.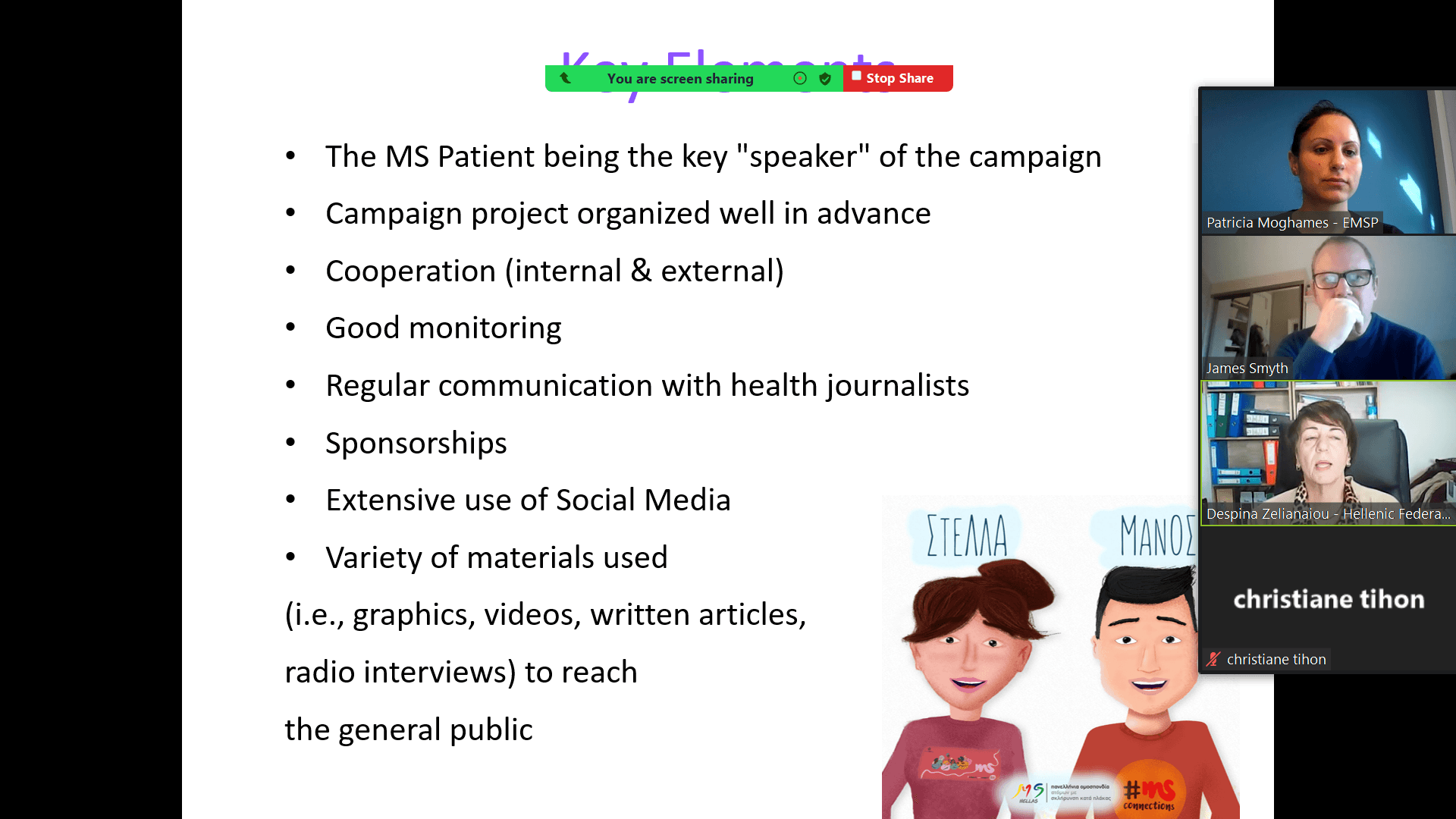 An online workshop was held on 24th of November 2022 on Campaigning, in the presence of eleven MS Societies across Europe. The workshop was led by Jimmy Smyth from JKS Communications with the objectives of sharing insights and ideas across the network. It focused on campaigning, equipping members with skills to develop strong policy messages and campaign objectives while setting the way forward for mapping political targets and setting realistic objectives to influence European Parliament and national elections. Smyth set out the key aspects underpinning successful campaigns and introduced a simple tool to develop clear, simple and effecting messaging. The group discussed how best to identify key audiences and develop engagement strategies and tactics, all while sustaining the momentum. Together the group developed key messaging they can use in campaign and advocacy on two topics they deemed as a current priority in MS: Rehabilitation and access to treatment. This workshop had set the base for a follow-up working on Campaigning in 2023.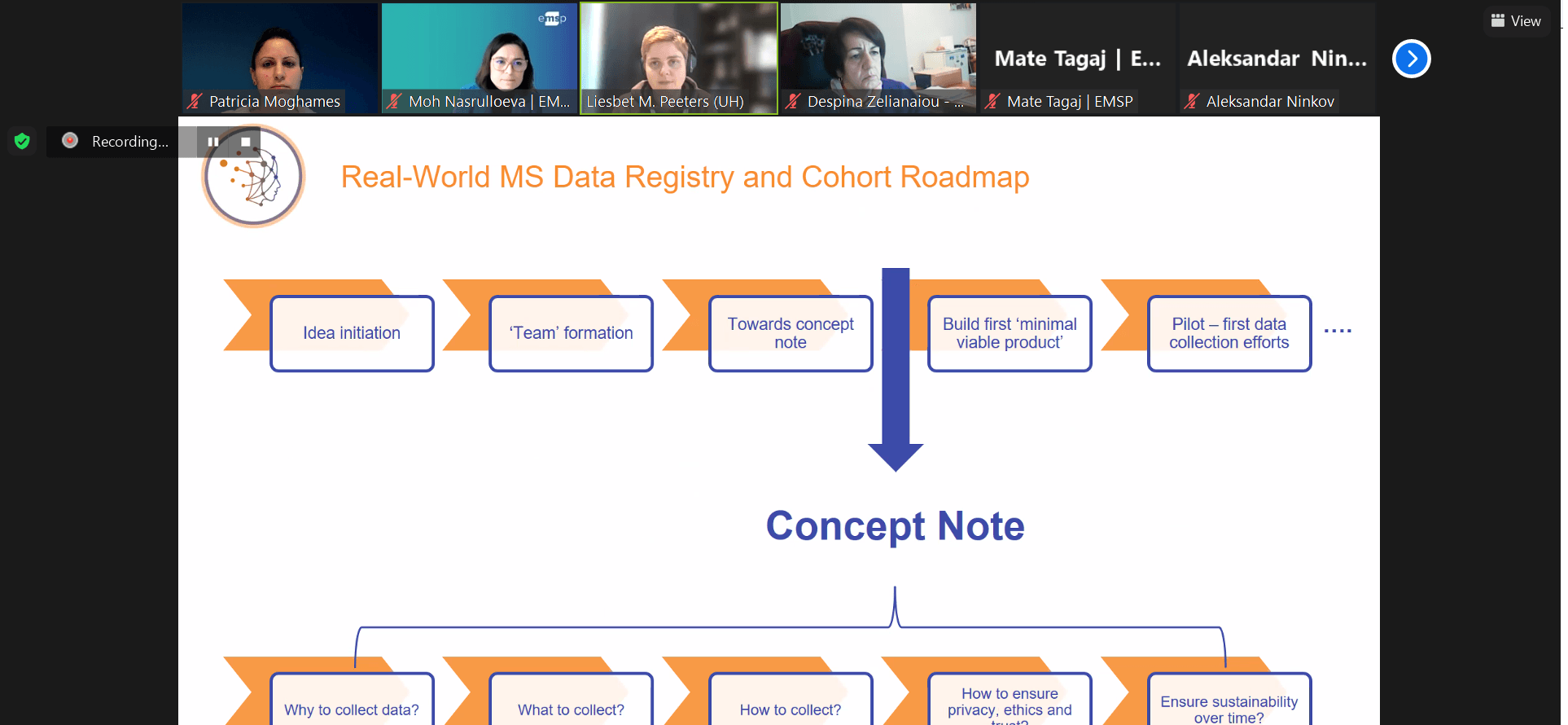 On January 26, 2023, an online workshop was held as a follow-up to two previous workshops on MS registries. Representatives of MS Societies from the Balkans region, including Croatia, Greece, North Macedonia, Romania, Serbia, and Slovenia took part. The workshop was led by Dr Liesbet M. Peeters, Chair of the MS Data Alliance, and was focused on understanding at what the stage the different MS Societies are in developing MS registries, identifying roadblocks and drafting a first roadmap together. This workshop took a very personalized approach where discussions went in depth, aiming to provide solutions and identify immediate next steps that the MS Societies can take to reach setting up their registries. This workshop was also linked with the MSDA efforts on MS registries, with EMSP's aim to continuously, across different programs, support members to reach their goals.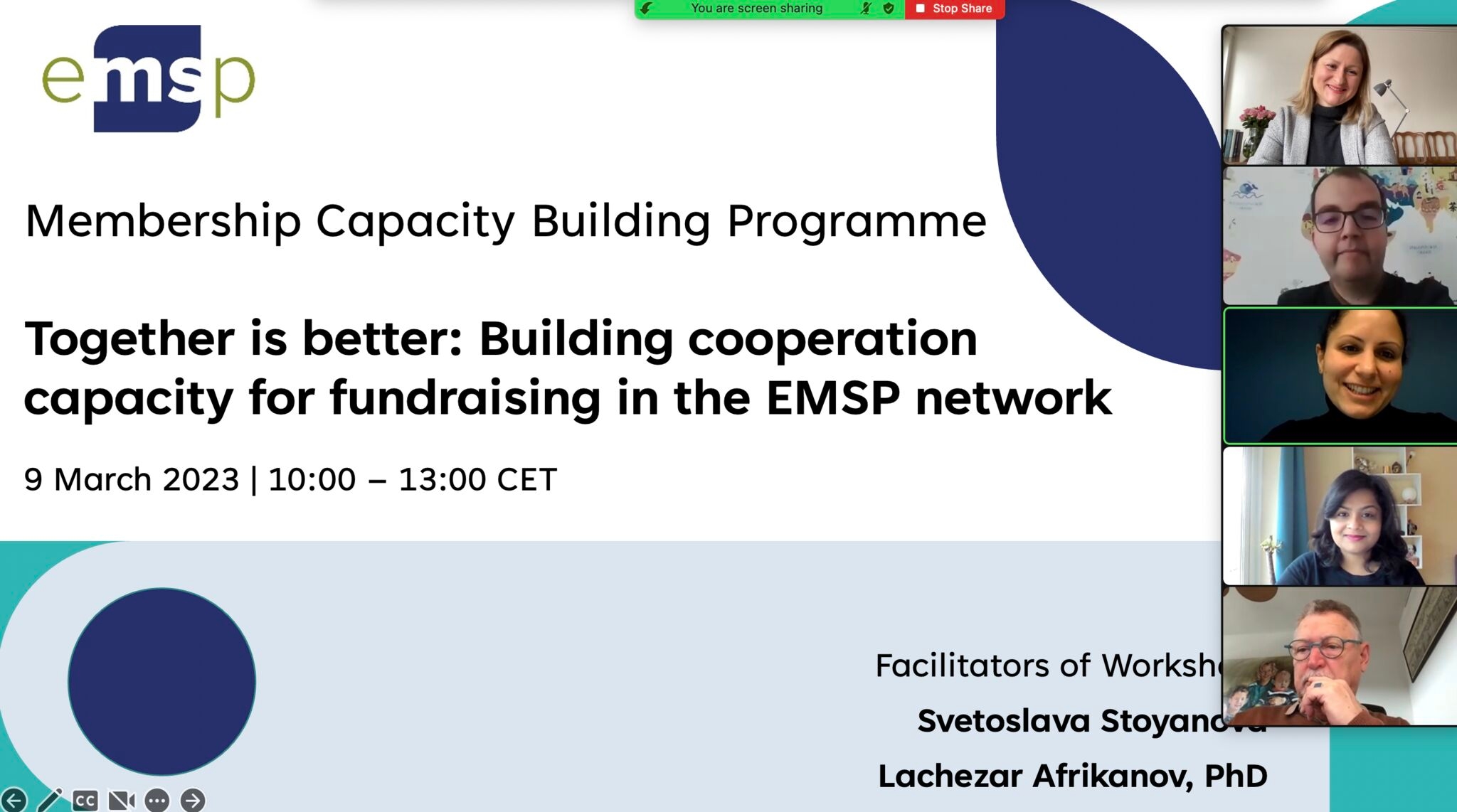 Svetoslava Stoyanova from New Mindset Coaching and Training and Lachezar Afrikanov from Your Ideas Matter took the lead on the last workshop held under the MCB Programme 2022, with the leadership of Debianka Mukherjee, EMSP's Fundraising and Development Manager. This workshop was held online on the 9th of March 2023 and aimed to provide collaborative space to member organisations for engaging, empowering and working together to generate ideas to co-create successful fundraising campaign/project for the MS movement in Europe. This workshop explored fundraising priorities of members and led to categorizing interested members in groups in which they will work closely together in 2023 towards shared fundraising goals.
In 2022, the EMSP Membership Communications Network (MCN) held its bi-monthly meetings focusing on the war in Ukraine. A membership communications working group gathered 4 times within the framework of the MCN discussing potential solidarity actions from the European MS community towards the MS community in Ukraine, especially to our member organisation UCMS. These meetings also served to exchange best practices of support provided by MS Societies in the neighbouring countries to Ukraine, as well as to coordinate the recompilation of information for the "Information for people with MS affected by the war in Ukraine" page now available on the emsp.org website in English and Ukrainian. One of the other two meetings were dedicated for general updates among the members and EMSP in the second half of the year, while the final meeting was postponed to 2023 and it specifically targeted the topic of "Similar diseases to MS", like NMOSD (Neuromyelitis Optica Spectrum Disorders) or MOGAD (Myelin Oligodendrocyte Glycoprotein Antibody Disorder).
EMSP Membership Communications Network
The Membership Communications Network continued to host bi-monthly meet-ups in 2022 to encourage two-way communications and to gain insights from regional best practices. This enabled our members to remain informed of current and forthcoming initiatives, to enhance contact between EMSP and its members, and to create a network of peer assistance that linked MS societies, young people, active volunteers, and MS ambassadors.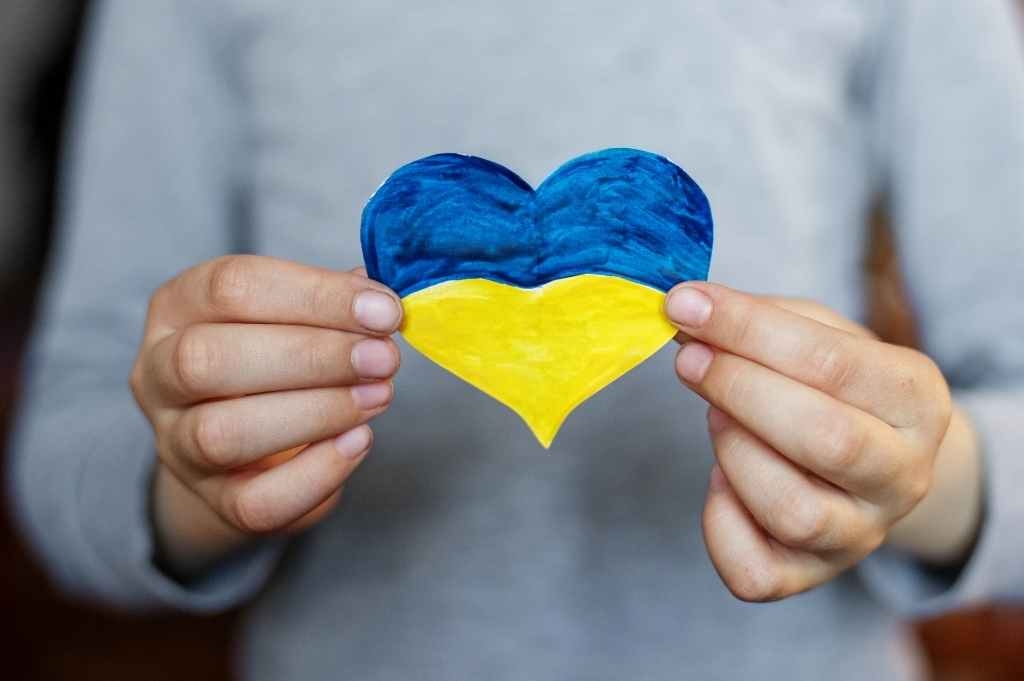 In this final meeting we introduced the information page developed under this theme on the emsp.org website in collaboration with the Sumaira Foundation and MS Nurse PRO, and encouraged our members to replicate this useful information on their own websites. Additionally, the EMSP members were also able to share their already existing initiatives to raise awareness of NMOSD and MOGAD.
Discover previous EMSP annual reports
Select an option using the dropdown button then click on the button to proceed.